Emily Reimann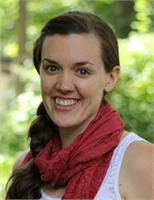 Emily Reimann is an intuitive energy healer. She is certified in the advanced level of Integrated Energy Therapy®, is a Reiki Master Practicitoner, a Certified Yoga Instructor, and is currently studying acupuncture at Tri-State College of Acupuncture in New York City. Emily was first introduced to yoga and the art of meditation in her adolescence, and has been practicing both ever since. Since then, Emily has dedicated herself to continuing her education and learning as much as she can about the mind, body, and spirit.
Emily has a sincere empathy for all life as well as a deep respect for the environment and strives to live as naturally as possible. She was first drawn to the therapeutic aspects of yoga and healing, enjoying the connection they created between body, mind, and spirit.
Emily believes that living a balanced, healthy lifestyle filled with compassion is the key to happiness, and that a holistic approach is necessary to achieve that bliss. She also believes that everything happens for a reason, and that we all intuitively know what we need in order to live happy, healthy, and fulfilling lives. She uses yoga, breathwork, energy healing, and time spent in nature to find nourishment and peace of mind, and her goal is to help others on their path towards healing.
Emily Reimann is currently not instructing any classes.