Restorative yoga
This class is taught by: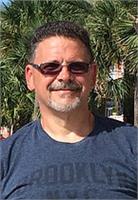 Joe discovered yoga well into his 40's as a way to manage stress and address health concerns. He began his yogic journey in 2008 and has been a regular practitioner at Devotion Yoga since 2013. Joe went on to complete his 200-hour Yoga Alliance certification in June, 2016, and joined the DY teaching staff after finishing his apprenticeship in April, 2017. Joe believes that yoga should be accessible to everyone and welcomes individuals of all ages and levels of ability to the mat to discover the benefits of the practice and its affect on the body, mind and spirit. His classes focus on the fundamentals of both the breath (prana) and movement (asana) which are meant to serve as a strong and sustainable foundation upon which to safely build your yoga practice and explore your potential.
Class will focus on using bolsters and other props to put the student in restorative positions. Class also focuses on breathing and mediation.
Upcoming classes: