All Levels
This class is taught by: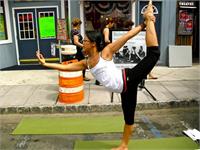 Erin Loscalzo is a BambooMoves 500 hour E-RYT. Erin has been a dancer all of her life, travelling 49 out of 50 states in the country as a professional dancer. She has been introduced to yoga many times throughout her dance training, but it wasn't until she found BambooMoves that she truly understood the true meaning of Yoga. She has always been interested in holistic healing and used yoga as a form of therapy for herself. Her students should never expect the same class twice. As she is grateful for being present in the moment, her energy reflects that of her students as they journey to find their true happiness together. Through her dance training and open heart, you will be led through a class to combine one body, one mind, and one spirit. Erin asks that you leave all cares and worries outside so that you can open your heart and mind to the beauty of yoga.
Hatha vinyasa based class for all levels from advanced beginners, intermediate, to advanced students. Variations will be given throughout the class so that each individual can practice their level of asana.
Upcoming classes: