Bamboomoves Yoga Lv. 1-2
This class is taught by: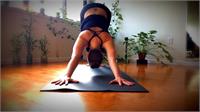 Dena completed her 200 hour yoga training with Bamboomoves in 2011. Inspired by her lifelong path in the arts as a dancer and dance educator, Dena embraces asana practice as a moving meditation that unites power, alignment, grace, honesty and fluidity. As a Therapeutic Recreation Specialist and Director of Arts-in-Special Education Programs, Dena is motivated to support others in exploring self identity, passion, and potential. Much of her experience is with individuals with significant disabilities, harnessing the power of movement, arts and yoga to express and magnify one's true self. Dena values every opportunity to explore individual strength, discovery, and compassion on the yoga mat and hopes to bring this process into her daily interactions in the world.
This is a class for advanced beginners and intermediate students
Upcoming classes: